Soul Food Recipes

Afro-American Steak Tacos
Baked Turkey Wings
Beef Stew
Buttermilk Pie
Chicken Wings
Crock Pot Lasagna
Fried Cabbage
Fried Chicken
Fried Chicken Cutlets with a Caribbean Twist
Fried Green Tomatoes
Hawaiian Surprise
Honey Chicken
Ice Box Pie
Macaroni & Cheese
Neckbone Soup
Red Beans and Rice
Smothered Pork Chops
Southern Fried Chicken
Spicy Corn Bread w/Collard Greens
Sweet Potatoes
Sweet Potato casserole
Three bean Caribbean Stew

Afro-American Steak Tacos
Steak

Medium Cheddar Cheese

Guacamole

Sour Cream

Onions (optional)

Lettuce

Tomatoes

Brown steak in pan, drain oil, add my
special sauce and 1 1/2 cups of water.
Let simmer until meat is good and tender.
My special sauce will make the steak melt in your mouth. Fry corn tortillas in pan and add all the remaining ingredients above.

Go Back To Top
---
Baked Turkey Wings
6 Turkey Wings (Fresh)

Mrs.. Dash (Original)

3 tsp. salt n' pepper

2 tsp. garlic seasoning salt

1 oz Lemon Juice

1/2 stick Butter (melted)

Glass 14x9x2 Casserole Dish
- Clean Turkey Wings
- mix salt n' pepper and garlic seasoning salt
- add lemon juice to butter

Preheat oven to 250 degrees.
Season the Turkey Wings with your season and just a little amount of water in the bottom of your casserole dish and arrange Turkey Wings and top with half the butter and lemon juice, cover and bake for 2 hours uncover and baste with remainder of lemon and butter Bake uncovered for an additional 15 minutes at 350 degrees.
---
Neckbone Soup
1 Package of neckbones

1 Package of frozen corn, peas, okra and lima beans

2 cans of stewed tomatoes

A dash of Lawry's seasoned salt

Add black pepper to taste

Add two large bay leaves

2 chopped large yellow onions.

Cook neckbones in a large dutch oven or a really large pot. Add onions season salt and pepper, skim fat and slim off the meat. Cook until it is so tender that the meat falls off the bone. You can leave the bones or remove them. Add the veggies and the bay leaves and stew for 45 minutes on low heat. At this time make some jiffy corn bread. I always serve lemonade and then my folks throw down at the table! Don't forget to bless the food!
Go Back To Top
---
Fried Green Tomatoes
Mix half flour and half cornmeal on a plate and season to your liking. Scramble an egg in a bowl, and season it to your taste. Slice the green tomatoes (not too thin) and place them in the scrambled egg.
Then, place them on the plate covering both sides with the seasoned flour and cornmeal. Put about an inch of canola oil in a skillet and brown on both sides. About five minutes on each side.
I hope you enjoy this delicious recipe for Fried Green Tomatoes!!
---
Macaroni & Cheese
1 Can Carnation® Evaporated Milk

1 Large egg

Velveeta® Cheese (Preferably Bits)

Mild Cheddar Cheese

Sharp Cheddar Cheese

1 TBSP sugar

Black pepper to taste

1 pinch Cayenne pepper

1 Box Creamettes® Macaroni

1/3 stick butter

Blend 1 can of evaporated milk with 1 large egg in a bowl and let set.
Boil macaroni for 10 minutes in water with teaspoon of oil.(so it won't stick!)
Mix macaroni with pepper, sugar, and cayenne.
Melt 1/3 stick of butter and put in bottom of casserole dish.
Layer macaroni, sharp cheddar, mild, cheddar, Velveeta® and then pour milk and egg mixture over casserole.
Bake in oven at 350 degrees F. until bubbling brown tips. VERY IMPORTANT!
Let stand for 40 minutes before serving.
---
Spicy Corn Bread w/Collard Greens
1 lb. Ground sirloin
16 oz jar "hot" salsa
2 tsp. Crushed red pepper
chilies (optional)
1 tbl. Black pepper
2 cups 3 cheese blend (any) corn bread. (Hot water corn bread, everybody's grandmother had a different recipe.) , Or 4 packs or Gold Medal® corn muffin mix (prepare according to package directions. Doubling the recipe.) Two packs of corn bread will be used for top and two for the bottom. Cook bottom bread completely.
Brown ground meat (cooking thoroughly), add pepper, salsa (chunky), chilies, crushed red pepper simmer 6 minutes to let spices cook together. Layer meat, cheeses, spices over completely cooked bread. Cover w/top batter
Bake in preheated 375 degree oven for 40 minutes or until golden.
Greens:
In stock pot w/2 cups of water place the following:

1 large smoked neck bone (must be smoked)

1 piece salt pork

Dash salt.

1 hamhock

Cover and let simmer 20 minutes.

In the meantime, wash and clean 5 bunches of collard greens, after cleaning cut bunches and place into stock pot.
Cover and let slow simmer for 30-40 minutes or until desired tenderness.
"Serve w/spicy corn bread. I think the soul food flair can be seen in the tastes and aromas."

---
Chicken Wings
1 pkg. Chicken Wings (separated)

Seasoning:

Lawrys®, lemon pepper, onion & garlic salt, pepper (I use what I like, you use what you like)

4 Cups cooking oil

*I use my Fry Daddy/w basket..but a large cooking pot will do.
Start oil heating in pot
Wash Chicken and season,
Once oil is hot, drop seasoned chicken in.
They will be done once pieces begin to float, and are a delicious golden brown. *7-10 mins
---
6 lemons

6 egg yolks

2 cans eagle brand milk

1lb. box graham crackers

2 sticks butter

Juice lemons and place in separate bowl (refrigerate) (no seeds or pulp). Crumb graham crackers to make crust (2 of the 3 packs should be fine). In stainless steel or glass bowl (don't use plastic) beat all egg yolks. Gradually pour in both cans of milk.
Mix well. Stir in lemon juice (refrigerate). Melt butter and gradually mix graham cracker crumbs with butter to make crust (shouldn't be gummy). Should be able to sprinkle over lemon mixture. Layer bottom of casserole dish with crumbs. Pour lemon batter on top. Repeat layering and end with crumbs.
---
Hawaiian Surprise


Crush vanilla wafer and mix with 1 stick of melted butter and press into the bottom of the dish. Cream 1 stick of butter, cream cheese and confectioners sugar + vanilla flavoring.

Then spread over the vanilla wafer crust. Slice bananas over the cream cheese.Then, spread the pineapples over that.Finally spread the cool whip on top and sprinkle the nuts and cherries on top.
---
Fried Chicken
2-3 lbs. chicken

2 cups flour

2 tsp salt

1 tsp curry

1 tsp pepper

1 egg

1 cup milk

1 tsp poultry seasoning

vegetable oil

brown paper bag

heavy cast iron frying pan


Thoroughly rinse and clean chicken (remove as much fat as possible).
I let mine soak in vinegar and water for about 1/2 hour.
Mix flour and seasonings together in brown paper bag.
Mix egg and milk together in a bowl.
Dip chicken, one piece at a time into egg mixture then into flour bag.
Coat evenly and allow to sit for about 15 minutes.
Use enough vegetable oil so that chicken will be covered.
Place chicken into pan when oil is hot.
Fry till golden brown, covering the last 10 minutes.

---
Red Bean & Rice
1-lb. red kidney beans

1-lb. cubed ham seasoning

1/2-lb. pickled pig tails

1-chopped yellow onion

5-toes garlic

1/2-chopped bell pepper

1-tsp. crushed red pepper flakes

1-tsp. salt

2-tsp. lard or bacon fat

Soak bean in pot over night
Drain. Put on stove in large pot of water on medium heat add salt.
Put pig tails in pot of water and allow to cook until almost tender.
Cook beans until they begin to boil add onion, garlic, bell pepper and crushed red peppers. When beans become slightly tender add ham seasoning, cook for 20 more minutes.
Add pig tails and cook for 15 more minutes.
Add lard or bacon fat. Cook until beans are tender (optional-add fresh chopped parsley).
Serve over your favorite rice or with corn bread.
---
Buttermilk Pie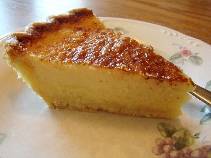 1 1/2 cup of Sugar

6 tbs. Butter

3 eggs

3 tbs. Flour

1/4 tsp. Salt

2 cups Buttermilk

1 tsp. Vanilla Flavor



Cream Sugar and Butter together.
Use regular Pie Shells
Bake at 350 degree for 45 minutes.

---
Honey Chicken
1 cut-up chicken

2 tsp. ground ginger

1/3 cups of margarine (melted)

1/2 cup honey

1 tsp vinegar

1 tsp garlic powder

1 tsp black pepper


Combine all ingredients into a large bowl. Dip chicken parts in the sauce and place in casserole dish. Bake at 350 degrees for 1 1/2 hours. basting occasionally.
Use remaining sauce to pour over chick during the last 1/2 hour of cooking. For a decorative touch you can add about 1/2 cup of chopped pecans to remaining sauce before pouring over chicken.
---
Sweet Potatoes
6-8 sweet potatoes

1/2 cup brown sugar

1/2 cup white sugar

1 teaspoon of vanilla

1/2 stick of butter

tablespoon of nutmeg

tablespoon of cinnamon

1/2 cup of orange juice

cut up orange peelings

---
Sweet Potato Casserole
1 lb. of sweet potatoes

1 can of sweetened condensed milk

1/2 can of evaporated milk

1 tbsp of vanilla

2 tsp of cinnamon

1 tsp of nutmeg

1 tsp of ginger

2 eggs

1 cup of sugar

pecans

marshmallow whip topping



Crust:
1 1/2 cups of flour

1/2 a stick of butter



Boil and cut skins off of the sweet potatoes,then cut up into mixing bowl. Add eggs,sugar and vanilla into the bowl and mix. Gradually add the milks into the mix along with the spices until all ingredients are mixed thoroughly.

In a baking pan add flour , butter, dash of cinnamon and pecans, mix together. Flatten mixture across pan until the bottom of the pan is covered. Bake of 350 in preheated stove for 20 mins.

After crust is finish add sweet potato mixture on top of the crust and bake for 45mins.

When finished baking add marshmallow whipped topping immediately after taking casserole out of the stove.(Easier to spread!) Then sprinkle pecans on the top and serve.
---
Fried Chicken Cutlets with a Caribbean Twist
2 pounds of Boneless Chicken

3 stalks of scallions

3 teaspoons of Garlic

1 small onion (Chopped)

3 tablespoons of JAMAICAN JERK seasoning

2 eggs

Season Salt

Italian Seasoning

Garlic Powder

Pepper

Bread Crumbs

1 cup of Vegetable Oil


In a deep dish pan, put the oil and keep under an extremely low heat until. you are ready for it.
In a food processor or blender combine the onion, scallion, garlic, and JERK SEASONING until well blended and set aside
In a separate bowl beat the two eggs until fluffy and set aside
Wash the chicken and cut into desired portions, sprinkle the all the seasoning on both sides of the chicken. Take the Blended Seasoning and apply liberally to both side of the chicken. Dip the chicken into the eggs and then into the bread crumbs, coating well.
The oil should be hot enough by this time, turn the stove to medium heat and fry the chicken until golden brown on both sides and cooked through the middle.
---
Fried Cabbage

Ingredients:

2 head of cabbage

6 slices salt pork (about 1 to 2 inches in length)

Bacon Drippings--1/2 to 1/3 cup

2 small onions

1/2 large green bell pepper

red pepper flakes (to taste)

salt

pepper


Put about 1/2 inch of water in a large pot, place the salt pork and red pepper flakes in the pot and simmer slowly about 15 minutes. When the water begins to evaporate pour about 1/4 cup bacon drippings in pot. Slice the onions and bell peppers in thin strips and place in the drippings.

Remove the outside green leafs from the cabbage heads, rinse and lay them in a pile together on top of one another. Slice the leafs in coleslaw type strips and place in the simmering bacon drippings and cook until they begin to wilt and soften .

Cut the rest of the cabbage head in half and slice the same way as the outside leafs. Rinse and place in the pot after the large leafs have begun to cook.
Cook for 1/2 hour or to your preference for doneness. Sprinkle with the salt and pepper
---
Three Bean Carribean Stew
1 can of crushed tomatoes

1 cup of cooked black-eyed peas

1 cup of cooked Garbanzos (black beans)

1 cup of red beans.

1 package of kielbasa sausage(slice in tiny pieces)

1/2 lb. of jumbo shrimp (shelled & devined)

1 cup of white chopped onions, green & red peppers, and banana peppers. BR> Seasonings include, 1 pinch of paprika, red pepper, & garlic salt.


In a skillet add 2 tablespoons of cooking oil and heat on med. Add onions, green/red peppers, kielbasa and shrimp and cook until lightly browned. In a large pot add beans, crushed tomatoes,green/red peppers, onions, kielbasa, and shrimp. Add seasonings and banana peppers and simmer on med heat for 20 minutes. Serve Hot!
---
Beef Stew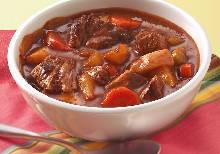 2 pkgs. 3 pounds stew beef

7 carrots cut

4 celery sticks chopped

1 onion cut into fine squares

6 big potatoes cut in pieces



Wash meat put into a roasting pan with all the veggies inside salt and pepper to taste put into oven with top on roaster oven at 400 degrees Bake for 1 1/2 hour and then serve on top of white rice
---
Southern Fried Chicken
Cut into chicken strips
(make sure you have your vegetable oil heating in your skillet or Frydaddy®)
Clean your chicken.
Season your chicken with McCormick® season all and add pepper (optional).
Beat up some eggs and add salt and pepper.
Dip chicken in egg and flour (self-rising flour) and let chicken brown on both sides.
(Goes good with turnip greens, macaroni & cheese,and dressing !!!!!!!)
---
2 tablespoons cornstarch

1 can (14.5 oz.) beef broth

1/4 teaspoon black pepper

1/4 teaspoon salt

Garlic flavored vegetable cooking spray

6 pork chops, 1/2 inch thick

2 onions, sliced

Mix cornstarch, broth and pepper until smooth and set aside. Spray a skillet with the garlic cooking spray and heat over medium heat.
Season chops with salt and pepper and cook chops in 2 batches if necessary for 10 minutes or until well browned on each side. Remove chops and set aside. Remove the skillet from the heat and spray again with cooking spray. Add the onion and cook over medium heat just until tender crisp. Stir cornstarch mixture and add to skillet. Cook until boils and thickens, stirring constantly. Return chops to pan, cover and cook over low heat for 10-12 minutes or until the chops are done.
---
Crock Pot Lasagna
8 lasagna noodles (uncooked)

1 lb ground beef or turkey

1 teaspoon Italian seasoning

1 (28 oz) jar spaghetti sauce

1/3 cup water

1 (4 oz) can sliced mushrooms

15 oz ricotta cheese

3 cups shredded mozzarella cheese

Brown ground beef in saucepan and drain.
Stir in Italian seasoning to ground beef.
Break noodles.
Place 1/2 noodles in bottom of greased slow cooker.
Spread 1/2 meat mixture over noodles in slow cooker. Layer 1/2 of sauce and water, 1/2 of mushrooms, 1/2 of ricotta cheese and 1/2 of mozzarella cheese over ground beef
Repeat layers
Cover and cook on low 5 hours.
---